Winchelsea is a hidden gem, and is well worth visiting, even if it is for only a day. There is so much to see here, you could easily spend a week lost in this serene port town. Just wander around this beautiful Sussex village or seek out Winchelsea's fascinating history by following one of our recommended walks.
A Base From Which To Explore The Countryside And Coast
Visitors staying in Sussex will find Winchelsea a convenient base from where they can explore the surrounding country and nearby coast. It is phenomenally well located and gives tourists the ability to easily explore nearby towns. For example, a couple of close by options are the High Weald Area of Outstanding Natural Beauty or Romney Marsh.
From Winchelsea, it is just two miles to Rye, the other Ancient Town in the Cinque Port Confederation, and about 8 miles to Hastings, one of the five original Cinque Ports. Winchelsea also sits on the Royal Military Canal, which stretches almost all the way down from Hastings to Hythe. At the end of this stretch is the beautiful Brede Valley, which is definitely worth a visit. There are several beaches in the vicinity. This includes the fabulous dunes at Camber Sands and Winchelsea Beach, which is a stone's throw away.
Things To DO
There's no shortage of things to do in Winchelsea. Whether you want to go for a long walk or prefer cycling around town there's something for everyone. You can bird watch with a guide and some binoculars or sit and have a picnic under a tree or even go for a cooking class in town and learn how to bake a loaf of bread or one of our signature coastal dishes. The diverse range of activities available guarantees that anyone who come sot Winchelsea will leave here with a wonderful experience.

Walking

Cycling
Bird-watching and Activities for Naturalists

Cultural and culinary activities in Rye
Walking Routes
Winchelsea is a walker's paradise. With medieval gates popping out at every other corner, and flat beach facing landscapes, long walks are one of this town's best offerings. Here are 5 beautiful walks that you can embark upon.
1066 Country Walkfrom Pevensey to Rye (31mi/50km).
Saxon Shore Wayfrom Gravesend to Hastings (163mi/262km). which follows the 1066 Country Walk between Rye and Winchelsea?
Royal Military Canal Pathfrom Hythe to Cliff End/Pett (28mi/45km).
Circular Winchelsea Walkfrom Winchelsea Station through Winchelsea, then back via the Pannel Valley Nature Reserve and the Royal Military Canal (7mi/11km).
Explore the footpaths around Winchelsea using the County Council's interactive map.
Cycling Routes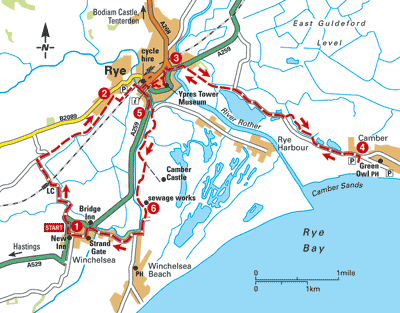 If you're a biker, there's lots for you to do here as well. Winchelsea has some great options for all sorts of biking enthusiasts- from the calf burning National routes, to tiny 2 hours trails that will make you break enough of a sweat that you feel like you've earned the next piece of pie.
National Cycle Network
National Route 2 is also called the South Coast Trail, which runs all the way from Portsmouth to Dover. The section that passes through Winchelsea runs from Rye via Udimore across the Brede Valley and then on to Hastings via Winchelsea Beach and Pett.
There are three circulars on and off-road circular cycle rides:
Weald and Coast- Goes from Winchelsea Stationout along the Royal Military Canal and the Brede Valley and back again via Cliff End/Pett and Winchelsea Beach (12mi/19km). Has hilly sections to climb up.
Canal and Castle- Starts from Winchelsea Station along Sustrans and the NCN Route 2 to Rye and then comes back via Camber Castle (5mi/8km). Largely off-road and fairly flat. For intermediates.
Orchards and Oasts- Begins from Rye out along the River Rother and into Kent and then goes back via Iden or Peasmarsh (on-road 12mi/19km; off-road 9 miles/14.5km).
Circular Rye & Winchelsea Cycling Route
You'll be taking in Winchelsea, Rye, Beckley, Brede and Guestling.
For Bird Watchers And Naturalists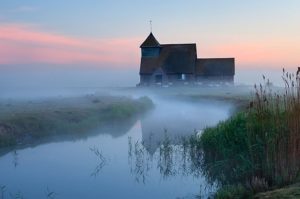 If you're a bird watcher or a naturalist, the animals and vegetation present here will definitely excite you. There are marshes, natural reserves and wetlands all waiting to be explored.
Rye Harbour Nature Reserve
other local wetlands
Romney Marsh
Tailor-made tours in the area between Hastings and Rye can be organised for bird-watchers who wish to get off the beaten track, and for other visitors interested in general wildlife or landscape history, by Cliff Dean at RXbirdwalks, who can be contacted on 07906-560881 or by e-mail.